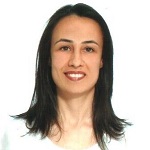 Ayten Özsavaş Akçay was born in Baf-Cyprus on 7 November 1972. She completed Fikri Karayel Primary School in 1984 and Güzelyurt Türk Maarif College in 1990. She graduated as an Architect from Faculty of Architecture in Yıldız Technical University- İstanbul. She completed her master's degree with her thesis "Architectural Analysis of the Ottoman Architecture Effects at Lefke/Cyprus" in 1997, and her PhD degree with her thesis "A Study on Factors Affecting the Change of Archhitectural Identity/ A case study for Nicosia – Cyprus" in 2007 at Yıldız Technical University.
She worked as an architect at various design offices in İstanbul and Nicosia.
She is a lecturer at Near East University – Faculty of Architecture since 1998. She take place in the academic staff at the Faculty of Architecture of Kyrenia University as a part-time lecturer.
She was Head of The Department of Architecture between 2014-2017 years. She was appointed as Assistant Professor at the Department of Architecture on January 2018. She gave courses at Department of Architecture, Department of Interior Architecture, Graduate Programmes of Architecture and Interior Architecture and Vocation School of Architectural Restoration. She is giving courses on architectural projects, construction, building science and elective courses; new designs at historical environment, extension for historical buildings and reuse of historical buildings.
Research fields are; architectural identity, culture, new designs and extensions at historical environment and reuse of historical buildings.
She is married and has one child.